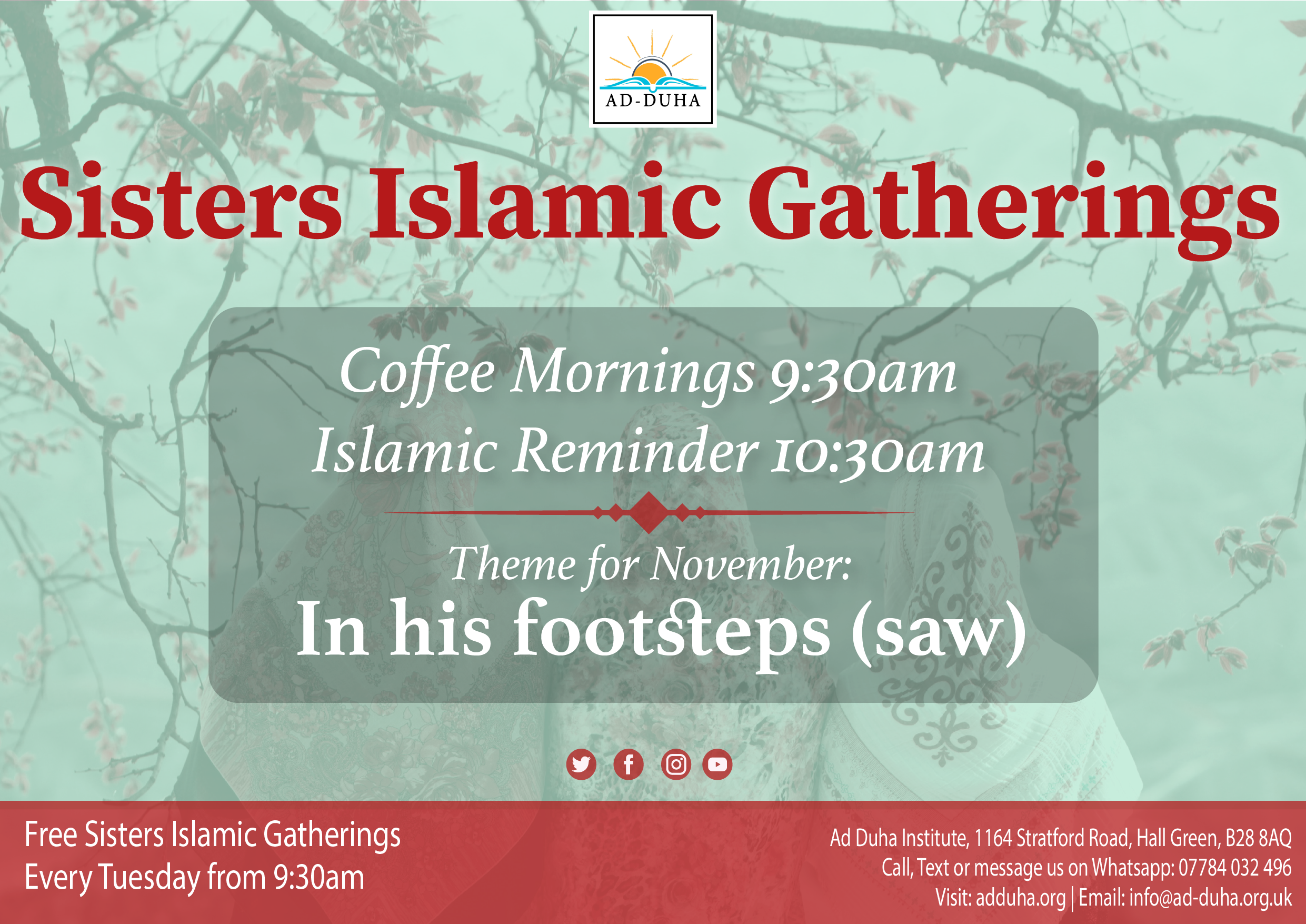 About Ad-Duha
 We teach islamic education to children, teenagers and adults of all ages. We cater for both men and women. We aim to empower Muslims with the skills and confidence to live their life according to Islam, face the challenges of the modern world and make a positive and meaningful contribution to the wider society.
Student testimonials
We want to offer the best Islamic teaching possible which is why your feedback is so important
Register for salaah
Please register your details and you will be able to enter the madrassah to pray Salaah
The registration system is a MUST due to the government requirement for organisations to have a record of who has entered the building to assist with the track and trace programme should one of the congregation members contract COVID-19.
islamic Courses and Activities
At Ad-Duha institute, we have been developing our courses for a number of years to fit students learning styles and requirements. We offer something for everyone including:
Maktab classes, Hifdh classes , Weekend school, Youth club, Sisters classes, Coffee mornings and much more!
Online Maktab
The Online Maktab replicates the classroom environment with all students reading together and feeling part of the class.
Weekday Maktab Class
Our Weekday Maktab classes are specifically tailored to focus primarily on high quality Qur'anic teaching with Tajweed (pronunciation) rules as well as the development of 'Ilm (Islamic knowledge) 'Aml (Practices) & Akhlaq (Etiquettes) that will impact your children for years to come.
Weekend Maktab
Our Weekend Maktab classes are for those children who are unable to commit to a five day after-school maktab system.
The syllabus used is the same as the weekday syllabus.
Further Education Classes
From athiesm to hijab. The aim is to cover all controversial topics in an Islamic Manner to instill belief in the understanding and confidence of our youth 
Adult classes and courses
In this busy day and age, it is becoming harder to stay connected to our religion. Learn the absolute essentials of worship that are obligatory for every Muslim to know in these vital classes on the basics of faith, purification, prayer and central points related to one's everyday life as well as recitation of the Holy Quran and the science of Tajweed.
Pre-MaktaB
An Islamic Pre-school for the Tarbiyah and Nurturing of our children.
Give your child the head start they need towards learning the Quran with Tajweed and the opportunity to learn the essentials of Islam with plenty of fun and educational activities.
Sisters free classes
In this busy day and age, it is becoming harder to stay connected to our religion. For this purpose, we have started free classes for sisters of the local community to benefit.
Coffee Mornings
Our Coffee Mornings provide a halal socialising environment for sisters. Furthermore, they enable sisters to get involved with the Madrassah.
Address
Ad-Duha Institute
1164-1166 Stratford Road
Birmingham
B28 8AQ